Quarantine is hard and so is being cooped up with kids! If you are like me and you have been locked in a house, apartment, or even a mansion with a toddler for a few days or weeks… you are probably losing your mind.
Not to mention if you are homeschooling older children during this time as well! How can you keep your toddler entertained and help your third grader with their math?
How fast these little hands lose interest in their hundreds of toddler toys!
As a mama of one, I don't have all the answers so I reached out to some of my favorite ladies and here are some ideas they gave for keeping activities to keep toddlers busy! I tried to pick activities with materials that you might already have so you can avoid the store in this chaos!
I have done this one with JJ multiple times. It is a quick set-up that keeps him busy for a good while! We did it for the first time when he was only seven months old. Highly suggest this one from Growing a Jeweled Rose.
All you need for this fun and easy activity is an ice tray and a squeeze bottle. How easy! Check this one out and check out Every Day Above Dirt's other great idea's for keeping your tots entertained when they must be indoors.
This is so simple that I am honestly angry with myself for not thinking of it. I can not wait to try this one tomorrow with JJ when he wakes up. He already loves playing with sticky notes. Thanks for the great idea Teach Investigate Play!
This idea from Swaddles n' Bottles is great for during quarantine and for you stay at home mamas that can't keep your kiddo interested in his toddler toys. Use what you already have but make it interesting and different each day!
Two ingredients you most likely already have in your home. coconut oil, and flour give your tots an easy taste safe activity for fun sensory play! Thanks Little Learning Club for this awesome idea!
Do you have a deck of playing cards or flash cards and an old oatmeal container or something similar? Then you have an task for tiny hands that will keep them busy! Just show them how to drop them in, and then go empty it when they have filled it up. DONE. Love all the ideas on this post by Simplifying Mamahood.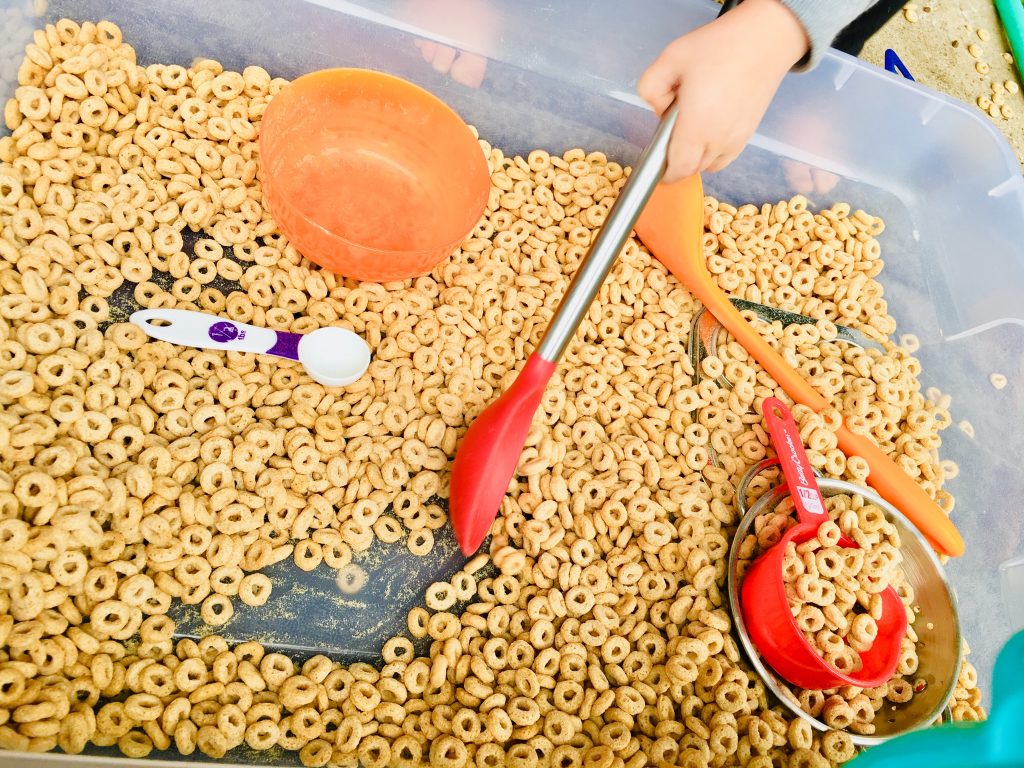 Raise your hand if your kid likes cereal? If you are not raising your hand you sit on a throne of lies. Even if your child truly does not like cereal they will love this sensory bin. Find the shovels, scoops, cups, tiny rakes, and whatever else you have and pour a box of cereal in a tub (that has a lid to store for future use). Make sure your kiddos wash their hands and SET THEM LOOSE! They will love eating and exploring at the same time. JJ will eat his own weight in Cheerios so I look forward to trying this great idea by Twin Mom Refreshed.
If you have contact paper and colored paper then your tiny human is on his way to a work of art. I did this activity with a three year old when I was nannying in college and he did three. You read that right three collages in a row.
So if you are not obsessed with crafting like I am you might not have contact paper, but there are a lot of other great ideas on this post by Everyday Chaos and Calm.
Take one of those leftover amazon boxes and some assortments of shoe laces, string, and anything else you can get your hands on. I know JJ will run around with this all day. He also might hulk rip it into pieces, but at least it was free and I can make another! Idea from Craft Gossip.
I have tried and tried to let JJ paint, but it ALWAYS ends up in his mouth. This is a great solution. Take a little yogurt and add some food coloring. Plop that tiny tushy in a high chair and let them paint and eat! The Life of a Harvard Wife gave her little one a coloring sheet, but you could also give them plain paper.
Muffin Tin Meal
How about one from me to wrap it up! JJ and I love this one. Take a simple muffin pan and fill each space with a different food and cover them with sticky notes. Let your busy toddler explore for an extra long meal time!
Check out these and more activities that I found on my Pinterest board! Follow Real Blessed Mama while you are there for more ideas for motherhood.
For ideas for what foods to put in your muffin tin, check out my 26 Foods for Toddlers and Babies post.